I love to pray visually (what is sometimes called visio divina). God speaks to me in paintings particularly, and for a few weeks, I would pray once a week meditating on the works one of my favorite painters: Jacques Tissot. I love his painting titled Inner Voices (1885) the most, but I'm often drawn back in times of doubt and hurt to praying with his painting The Woman of Samaria at the Well (1896), shown below, courtesy of the Brooklyn Museum.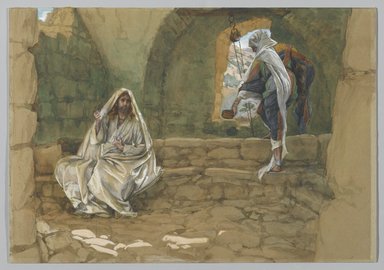 When Christ finds the woman at the well (John 4:4-42), she is there alone, filling her jar in the heat of the day, at a time when she is unlikely to encounter other people, perhaps for shame of being an outcast. I see in Tissot's painting so much movement–the woman has come for water and has been "interrupted" by Christ in a way; he has found her in the everyday and has surprised her. I found myself wondering: if Christ found me at the well, what would I be doing? The answer the Holy Spirit brought me was so clear. I would be waiting. Just waiting with my empty jar beside the well.
This confused me, so I pondered in prayer, "Why am I waiting? What am I waiting for?" He showed me how I held the empty jar in my hands, how tightly I gripped its handles. I knew that I was waiting for water to be poured out into my empty jar. In this image, I stood and waited and even grew angry at how long it was taking and how heavy the earthen jar was. And I, as we all often do, began to question the Lord again: "Why am I waiting? Why is this taking so long and why is this weight so heavy?"
Jesus, in His tenderness, then showed me how the well was empty. He asked me,
"Alison, why are you waiting at an empty well with an empty jar?"
He continued, gently pressing these words into my heart:
"My beloved. Why are you waiting at an empty well with an empty jar? Do you not know that we cannot give what we don't have?"
…
How often we do just this! We stand, waiting (not so patiently sometimes) for other people, other situations, even ourselves, to fill us when He is the only source of the Water that fulfills. How often we grow resentful when others don't pour themselves out into us when we expect them to. How often we are so concentrated on waiting for what will not be able to fill us sufficiently that we miss (or ignore) the Living Water who has drawn near to us in the waiting.
And how often we resist showing this brokenness to Christ. I think of the painting again and see how the woman's back is turned to Christ and to us while Christ sits, open and embracing. I notice again the shadow around the woman and the brilliance of Christ's robes. I know I am sometimes that woman, and I know that I try and hide my selfishness, my stubbornness, my pride in that shadow. I try to hide my waiting from Him, He who longs for nothing but to fill me.
So, dear reader, I ask you to respond to Christ: what are you waiting for? Where are you waiting for an outpouring? Turn to Christ and see how he longs to fill the jar in your hands.
"Whoever drinks the water I shall give will never thirst…"
"Sir, give me this water, so that I may not be thirsty…" (John 4:14-15)